Starting a Google VM
Sometimes you might want to spin up a Google VM to use:
WARNING: There maybe charges for starting a VM, running BigQuery searches, or generally working in the cloud!
YOU ARE SOLELY RESPONSIBLE FOR ANY CHARGES THESE SEARCHES INCUR.
First, lets start a new VM.
Click the New Virtual Machine logo in Google Cloud

(Depending on your settings, there may be an interstitial that requires you to Enable running VMs)
Then click create VM:
Note:
There are a lot of options about regions. I recommend using the cheapest region, not necessarily the closest region!
Currently on Google, Sydney and Melbourne are both $0.030950 / vCPU hour while Iowa is $0.021811 / vCPU hour
I set up a small machine that has
Location: Iowa (us-central-1)
Series: E2
Machine Type: e2-micro (2 vCPU, 1 GB memory)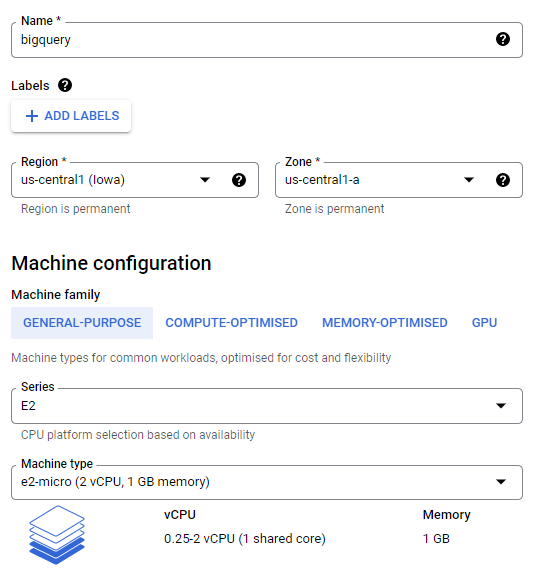 The handy cost estimate suggests that this machine will cost me about US$7 per month. I can live with that
Free tier!
However, on my allocation, this qualifies for my free tier (don't worry, they will get money out of me some other way)
It is a good idea to check that you are eligible for the free tier

Create the VM
Finally, after all that click the create button:

Access the machine
Once the machine has booted, you should see the machine listed in the Google Cloud console. You will need that IP address: